About the Series
At Home with John Haley is brought to you by the W.E. Aubuchon Company and was created to expand your knowledge on everything from paint to hardware and all of the projects in between.

Your host, John Haley, is the Paint Training Manager at the Aubuchon Hardware Company and has been in the contracting world for over thirty years, primarily as a painting contractor. Throughout the past three decades, John's paint business has worked with the finest interior designers in New England and has applied thousands of gallons of various paint products for both interior and exterior projects.

Each week John will focus on a variety of project-related topics and will put you in touch with real professionals who can provide you with solid guidance and insight to help you with your next endeavor.

Have a question for John? He will give helpful tips to help with whatever project you have going on by responding back through email. Each week John will select one question to discuss during a future episode. If your question get's picked you will receive a $25 Aubuchon Hardware Gift Card.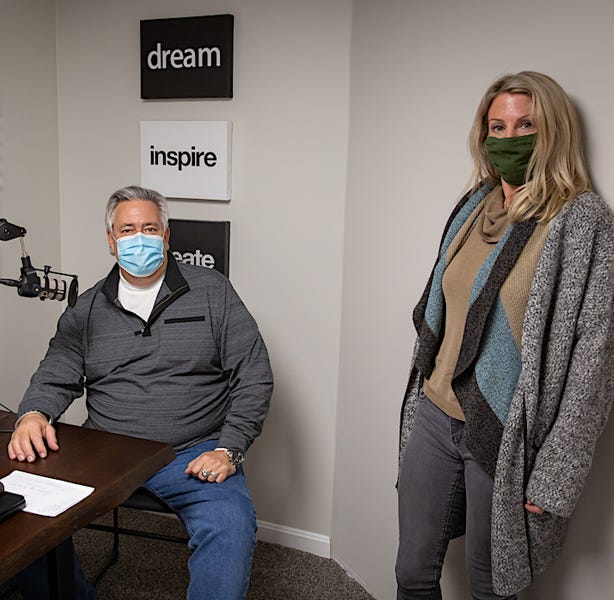 Exterior Deck Preperation
May 9, 2021
Host John Haley welcomes Keith, Paint Specialist from the Beverly, MA. Aubuchon Hardware location to discuss the steps and products required to properly prepare your exterior deck for a staining project.
Choosing The Right Grill
May 2, 2021
John speaks with Doug from the Weber-Stephen Company about the various options and features found on Weber grills. This episode will help you identify the perfect grill for your needs.
Paint Projects
APRIL 25, 2021
Gretchen from Princess Painting revisits the show and discusses with John the importance of paint preparation - cleaning the surface, sanding and priming when working with different surfaces. The conversation also focuses on the steps required to properly paint kitchen cabinets.
Habitat for Humanity
APRIL 18, 2021
Guest speaker Mike Mattson, VP of Marketing at the W.E. Aubuchon Company, Inc. talks to John about Aubuchon Hardware's overall community involvement and most recently with Habitat for Humanity. John also welcomes Kim from Habitat for Humanity on the show where they discuss what the organization does for the community, along with helping struggling families obtain a home that they can call their own.
Bonide Company
APRIL 11, 2021
John talks with Kevin from Bonide Products where they discuss fertilizers for lawn and garden, as well as insecticide and animal repellents. Also joining John is Dianne, Manager of our Ipswich, MA location. Dianne shares with John all of the great products that are now being delivered to her store for spring and summer.
Get Your Grill On!
APRIL 4, 2021
John talks with Tim from Broil King grills about our new favorite place to eat since the pandemic - at home in our backyards. The appetizing conversation will touch on grill variety, maintenance and all the mouth-watering meals that can be cooked on a grill, from breakfast to dinner.
The Recovery Room
MARCH 27, 2021
Gretchen from Princess Painting joins John once again as they talk about the powerful benefits of "The Recovery Room" - a room completely dedicated to you. Your Recovery Room will provide you with a comfortable setting to retreat to within your own home, allowing you to recharge and relax.
Lawn & Garden
MARCH 21, 2021
Guest speaker Derek from Scotts Lawn Care/Miracle-Gro Products discussed how to grow and maintain the perfect lawn, along with tips for planting flower and vegetable gardens. He also touches on getting rid of those pesky insects and the best products for use, both in and outside of your home.
Backyard Birding
MARCH 14, 2021
In this episode, John speaks to Jared from Audubon Park. They discuss the different types of wild bird food that Audubon Park offers along with the joys of backyard birding. John also speaks with Mary from Perky Pet about their variety of bird feeders as well as feeding hummingbirds.
Meet Keith
MARCH 7, 2021
John talks to Keith, Paint Specialist at Aubuchon Hardware in Beverly. Keith explains how he helps his customers get the right Benjamin Moore paint and colors that they need for their projects.
Seed Starting to Gardening - Part 2
FEBRUARY 28, 2021
Part two continues to review seed starting and gardening. During this episode, John welcomes Venelin from Atlee Burpee Company and Cameron from Coast of Maine.
Seed Starting to Gardening - Part 1
FEBRUARY 21, 2021
In part one of this two-part series which covers everything you will need to know when starting your seeds, planting your garden and the tools needed to get started. You will also get helpful tips for all stages of growning your garden. During this episode, John welcomes Sarah from High Mowing Organic Seeds and Kent from Green Garden Products.
Choosing a Color - Part 2
FEBRUARY 14, 2021
In part two John and Gretchen continue their discussion on how to choose the right color from the various Benjamin Moore color palettes. They review the Benjamin Moore color palettes, featuring the Williamsburg Paint Color Collection and Aura Color Stories.
Choosing a Color - Part 1
FEBRUARY 7, 2021
This episode is a two-part series with John Haley and guest host Gretchen from Princess Painting. They focus on a world of color with bright discussions regarding Benjamin Moore color palettes and how to use them. John and Gretchen discuss Benjamin Moore Classics, Color Preview, Historical Colors and the Affinity Color Collection.

Switching stores will empty the cart. Are you sure you want to do this?